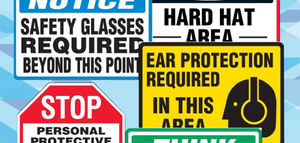 Safety Signage
Safety signs are designed to warn individuals of potential hazards, indicate required use of Personal Protection Equipment or mandatory actions, prohibit objects and actions, or mark important safety routes. Safety signs are divided into warning, regulatory, and guide signs. Most safety signs come with unique shaping, which typically corresponds to the message the sign intends to pass across. Digistream can help you convey important information through high-quality safety signs.
Safety Manuals
A safety manual provides procedures, policies, instructions, and information necessary to ensure the fully safe operation of any chemical, machinery, or tool that you use to perform a task in your workplace. In addition, a safety manual can be elemental if your employees have to practice CPR/ first aid or even fire drills.

A reliable safety manual ensures both the management and workers or clients are on the same page concerning who is responsible for what and ensure maximum safety within the environment. Crafting a good safety manual can be hard at first. Fortunately, you can make a highly effective safety manual with expert aid here at Digistream.


Safety Labels
Generally, labels are the last line of defense before any injuries or damages occur. Safety labels help to minimize accidents and their resulting injuries. These labels play an important role in communicating hazard and safety information on tools, machinery, or products.

Besides helping to reduce injuries, safety labels also mitigate the potential for expensive lawsuits and avoid issues relating to non-compliance with both international and national standards. When you choose safety labels from Digistream, you choose to access multiple design options and customization to match your preference.
Safety Tags
Safety tags help minimize accidents in potentially hazardous situations that are not readily apparent or out of the ordinary. Safety tags shall be utilized until the hazardous operation is completed or the identifiable hazard is eliminated. As with safety signs and safety levels, safety tags help to minimize the chances or intensity of injuries. These may be used interchangeably or separately. Regardless, Digistream can help you design and craft the best safety tags for your work environment.
Log Books and Forms
Logbooks are also important in a business' operation. Logbooks can be customized with company information and preferences. Branding such business items is considered part of marketing. Digistream can help you design and create high-quality and visually appealing logbooks to record information for review and tracking.