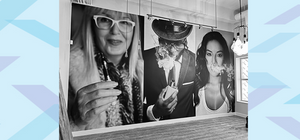 Interior Signage
When you need signs or graphics for your office, retail, showroom, or restaurant Digistream has the solution. A full range of indoor signage products is available in portable and permanent formats.

We install custom floor graphics, printed and contoured to fit the unique dimensions of high-profile structures such as casinos or international airports. And we can create large format directional signage using vinyl stickers made for floors, walls, and any other smooth surface.

Whether you need an indoor sign solution as part of a larger marketing campaign, or just an interior sign for your business, Digistream can help you find the solution that works for you.
Reception Signs
A welcoming, informative reception sign is a must-have in any office or business. It can help with your company's branding and convey messages about available services and amenities in the lobby.

Your clients should feel welcomed and comfortable as soon as they walk through the door. Accomplish this with a reception sign that sets the right mood for your business, indicating to guests what services you provide and other relevant information such as contact details.


Custom Displays and Lightboxes
Custom Displays and Lightboxes hang on walls, and the backlight allows for an attractive presentation of advertising messages. We make custom displays and lightboxes for indoor signage solutions. Let your customers know what you do, making your product or service instantly recognizable from afar. Custom Displays and Lightboxes create a professional and stylish look that will stand out in any room.

They are perfect for highlighting special sales or promotions. You can use them to display various promotional materials, from posters and floor graphics to menu boards, announcements, and more.
Directional Signage
Whether your business is new or well established, you should ensure that people know where they're going – especially if the path involves stairs, escalators, or elevators. This is where directional signage comes in.

Directional signage displays special messages, like store hours and other room listings, to let guests know where to go inside. We create custom floor graphics and large-scale decals attached to walls, floors, or any other surface.


Roll-Up Banners & Stand up Displays
Stand-up and roll-up banners provide an excellent solution for indoor signage. They're lightweight, portable, and easy to set up. And when you're ready to pack them away, roll them out with ease.

They're perfect for promoting events or special sales such as back-to-school, Black Friday, or Boxing Day. Let your customers know about one-time-only promotions or upcoming gatherings.
Floor Graphics
Transform your office or shop floors with floor graphics for an indoor signage solution. Floor graphics give an office, restaurant, retail store, showroom, or other business a polished look that customers will notice immediately upon walking through the door.

We print high-resolution graphics directly onto a variety of flooring materials so that they last long and look great. Graphics can be made to match your business's color scheme, logo, or any other branding you have in place.